1Access the "Audiences" section.

2Select the audience you want to analyse.
3Click on the "Manage contacts" tab.
Then click on "Subscribers".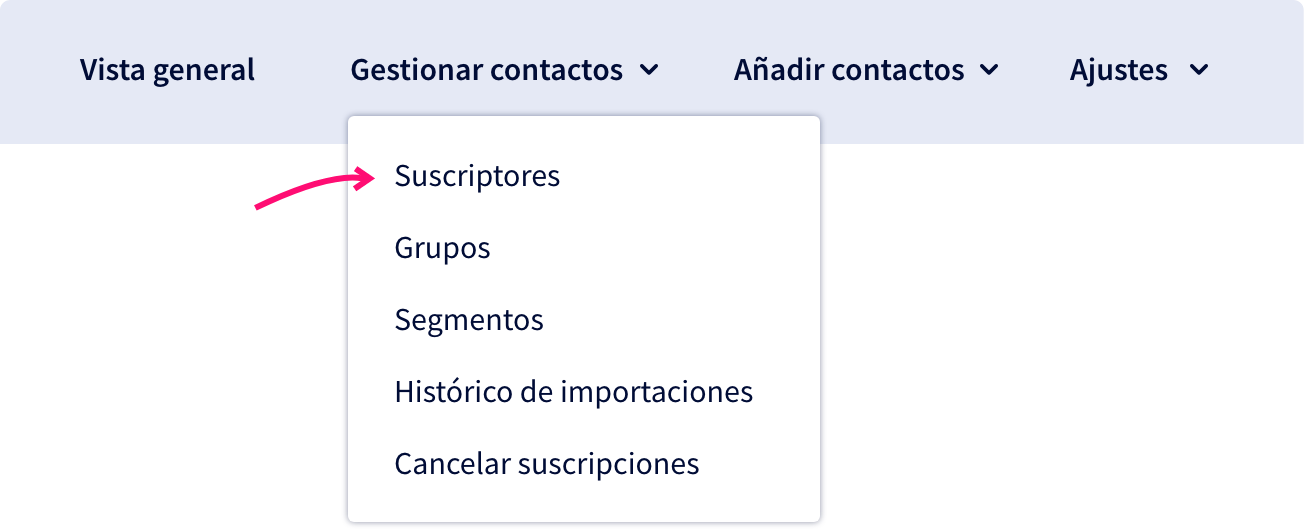 4Select a subscriber
Select the subscriber by clicking on the email address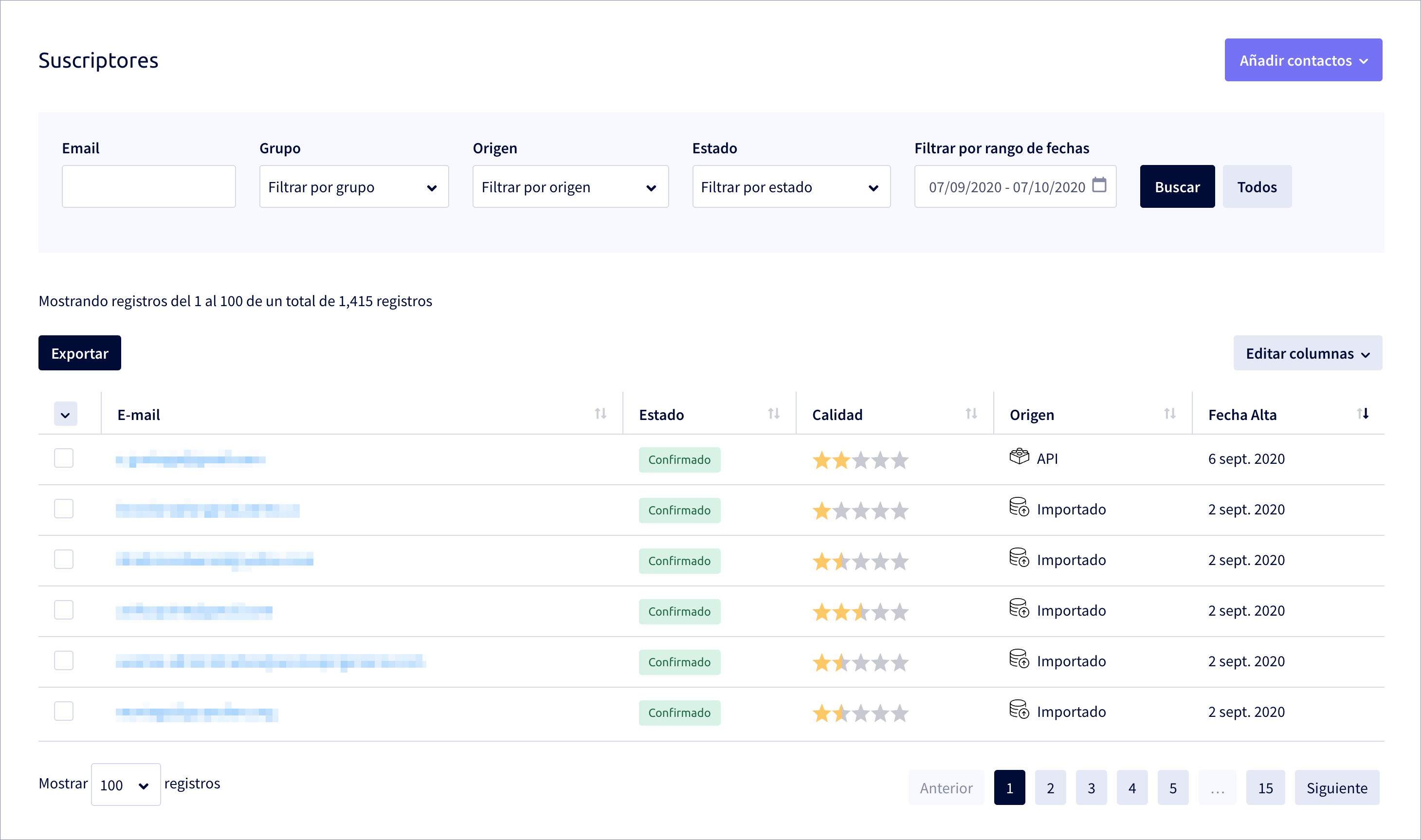 Estados del suscriptor
| | |
| --- | --- |
| | Subscriber confirmed. He/she will receive the campaigns you send |
| | The subscriber has unsubscribed via the unsubscribe form, the link in the campaign email, sending an email to unsubscribe from the campaign or a spam complaint. You will not be able to change the status from the Easymailing panel. He/she will not receive the campaigns you send. |
| | The subscriber has been unsubscribed by an administrator from the Easymailing control panel or has been automatically unsubscribed due to a "Hard" bounce or several "Soft" bounces. You can reconfirm the subscriber from Easymailing. He/she will not receive the campaigns you send. |
You can change the settings for automatic unsubscriptions under "notifications and subscriptions" in the audience settings.
Más More information
Source
Web Form
The contact subscribed via a web form
Manual
Administrator has manually registered the subscriber
Imported
Subscriber has been imported
API
Contact subscribed via API
Quality

Star ratings are based on user interaction with your list: clicks, opens, adds, unsubscriptions, subscriptions, etc.
Subscriber in detail
Clicking on a subscriber from the list will display that subscriber's details. In addition to what we have explained in the previous point, you will see the opening rate and the click rate.

From this page you can also edit, unsubscribe or subscribe the contact via the drop-down button at the top left.
In the event of a cancelled subscription, you will not be able to manually re-register the subscriber. If the subscriber asks you for a new subscription, you can send a subscription email so that the subscriber can confirm it in person.
Information about the subscriber: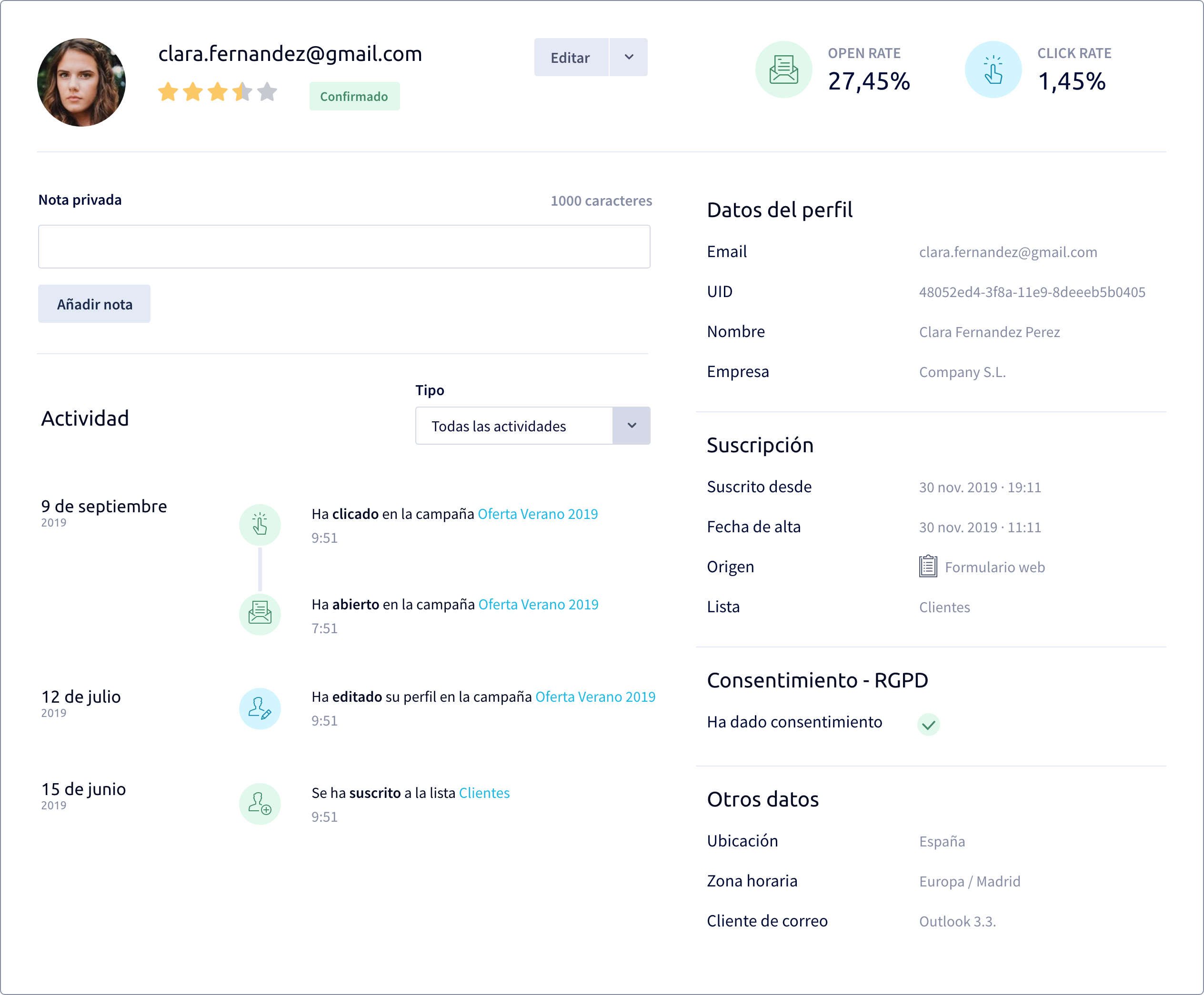 Profile details
You will see all the data associated with the subscriber (email and UID) and also the data of the custom fields you have included in your audience.
Subscription
Subscription details. Date on which the user first registered for an audience and date on which the user subscribed to this particular audience. From where the subscription has been generated and to how many audiences the subscriber has subscribed.
GDPR Consent
Remember that it is essential that you obtain the users' consent when collecting their data. Check if you have obtained consent, on what date, IP from the subscriber and for what purposes.
Other data
Location of the contact, time zone and email client. These data are collected according to the IP from which the email was opened.
Activity
To see how your subscribers are interacting, look especially at the timeline "Activity". All subscriber actions will be listed here since the subscriber has been registered. Include also your private notes with remarks.
Types of activity you can filter your timeline by
Subscription
Indicates when the contact has subscribed to your audience
Email sent
Indicates when a campaign has been sent to the subscriber.
Opening on campaign
Information on when the subscriber opened a campaign
Click on campaign
Information on when the subscriber clicked on a campaign
Unsubscribe
Indicates when a subscriber is unsubscribed
Profile edited
Informs you if the profile date of the subscriber has been edited
Bounce
Informs you if there have been any bounces when sending a campaign (Soft and Hard).
Notes
Anote has been created by an administrator
Spam reports
A spam report has been generated