Easymailing incorporates several tools to help you comply with the General Data Protection Regulation (GDPR):
It provides a detailed analysis of each of your subscribers, distinguishing those who have given their authorisation and those who have not.
It enables you to indicate a data controller and to specify the purposes for which the data will be used, which must be shown on the subscription form.
Double opt-in confirmation procedure in the subscription process of a contact, to have a better guarantee of the consent of your subscribers.
Forms that comply with all the points of the GDPR that the user must be aware of.
Setting up data controllers in Easymailing
Your company may need to appoint a data controller. You can find more information in the article About the data protection regulation.
To do so, go to the settings section in the main menu, click on the GDPR drop-down tab and select "Data controllers". Click "New controller"

Fill in the requested information and tap save. Later you can associate the controller with your audience.
Please note that this information will be made public at the time of subscription of your contact, so that the user knows which member of the company to contact in case of any dispute.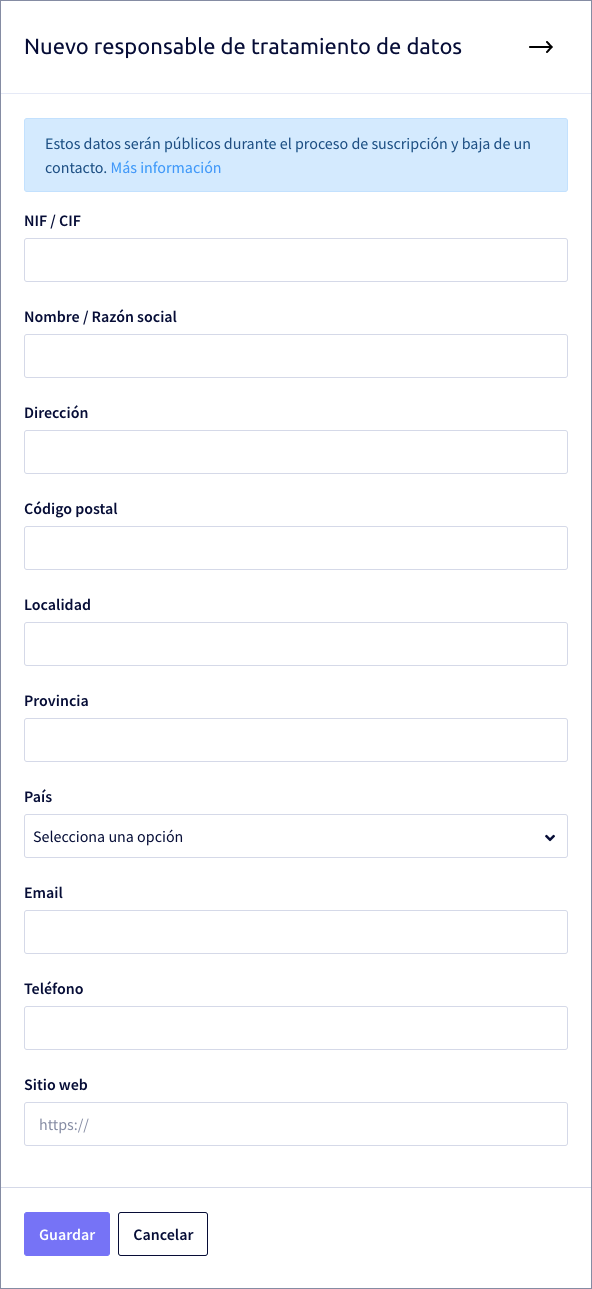 Set data processing purposes
The purposes for which you will use the data must be clearly stated at the time the user subscribes to your audience.
To do this, click on the "Processing purposes" tab and click on "New purpose". You may select the purposes for which you have registered through your audience.

Assign data controller and purposes from the Audiences section.
You can associate the responsible party and the purposes to your audience from the "Audiences" section.
Select an audience, click on "GDPR" in the "Settings" drop-down menu. From here you will be able to select some of the managers and purposes you have created or register some new ones. You must also add the url of your company's privacy policy.