What is a segment?
If you want to get better results in your email marketing campaigns, it is not advisable to send emails to all your contacts without a proper strategy, but you should filter your audience according to the interests of your potential customers. You know what you want to sell; now ask yourself, to whom do you want to sell it?
For example: if you want to send a newsletter announcing the latest news on car spare parts, you filter your subscriber base according to characteristics such as personal situation (single, married, with family), professional situation (working or unemployed), industry, average income (if known), environment (rural or urban), etc. The result of this operation is called segment.
A segment is therefore a group of contacts aggregated according to certain characteristics.
Of course, you must first obtain these data. To do so, you have the option of including custom fields in your database. And add these fields to your forms to obtain the data from which you will then design your campaign segments.
How to create my first segment?
Go to the "Audiences" section of the main menu, select an audience and go to "Manage contacts", click on "Segments" and finally click on the "New segment" button.

Then you must fill in the name of the segment, and add a description.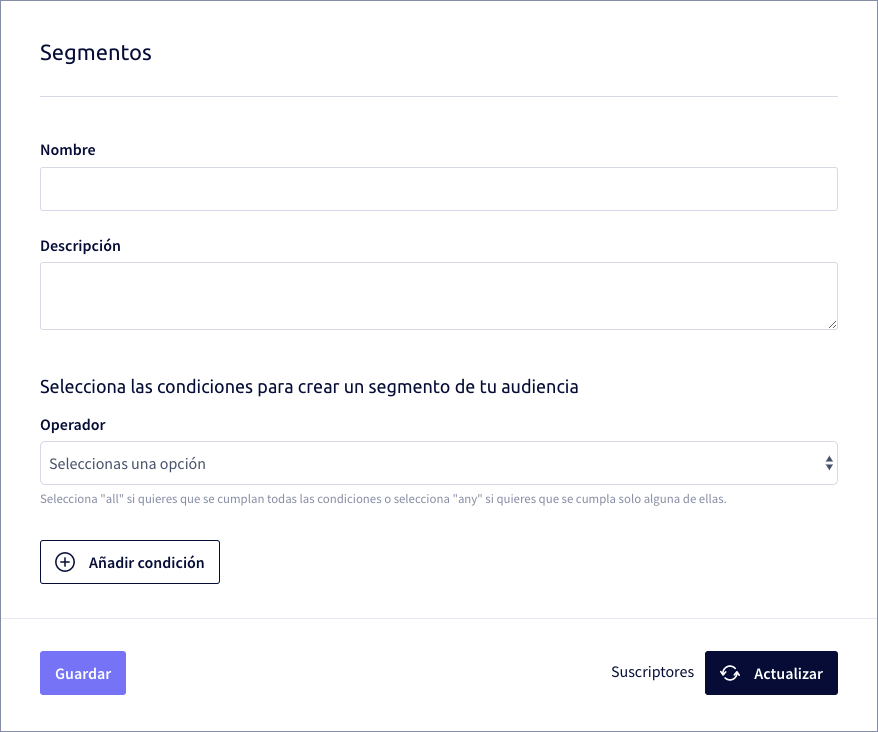 Select operator: select if you want all the conditions you add (All) to be met or if one of them is sufficient (Any).
Add condition: choose the condition you want to add. You can add as many as you need. Each condition will have default options or free text for filtering.
Types of conditions:
E-commerce
Has made a purchase
The subscriber has made a purchase
Date of the last purchase
Date when the subscriber made their last purchase
Number of purchases
Number of purchases made
Purchase revenue
Total revenue obtained from a subscriber's purchases
Contact fields
Email
Email address that the user has entered as contact
Language
Subscriber language
Contact location
Country
Subscriber country
Time zone
Time slot e.g. Europe/Madrid (GMT+2)
Subscription fields
Origin
Where the contact's subscription comes from. (Admin, API, Web or imported form)
Status
In which status: active, subscription cancelled or subscription cancelled by an admin.
Creation date
Subscription date
Consent
Consent
Whether or not you have the consent of these subscribers in Easymailing to operate with their data (mandatory with RGDP).
Purposes of processing
Purposes of processing
Filters according to the purpose specified by the subscriber when filling out the subscription form.
Campaign activity
Campaign activity
You can segment by the actions subscribers have taken on sent campaigns.
Opened, didn't open, clicked, did not click, etc.
Custom fields
E.g. Name, company, birthday, etc.
The conditions are made up of the custom fields you have set up in your database.
Click "Update" if you want to see the number of subscribers the segment would have with the selected criteria
Once the segment is set, click on save and the segment will be automatically saved in your audience.

By clicking on the drop-down panel on the right you can add subscribers to a group, edit, delete, export the segment in an excel document.
By clicking on the "View" button, you will be taken to the next screen with information about the segment (conditions, subscribers in that segment, etc.).